Nora and Chuck Bailey '72 Establish Planned Gift to Continue Thayer's Tradition of Excellence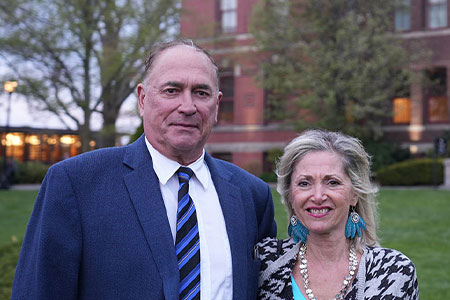 Nora and Chuck Bailey '72 Establish Planned Gift to Continue Thayer's Tradition of Excellence
Chuck Bailey '72 gained important life skills by attending Thayer Academy, which is why he has designated a bequest in his will to support future Tigers.
The proud alumnus credits Thayer's sense of community and myriad academic and extracurricular offerings for providing him a firm foundation for future success.
"I like to say it was a launching pad," he says, adding that at Thayer he participated in varsity sports, glee club, and drama club and served as senior class president.
Attending Thayer became a family tradition for Chuck, his older brother William '69, and his younger sister Pam '78. "My parents wanted the best education they could provide for us," explains Chuck, a Milton native. "Thayer opened my eyes to what can be done if you apply yourself."
Chuck and his wife Nora want future Thayer students to enjoy those same opportunities. Their bequest will ensure that the Academy experience remains a transformative one for new generations of students who walk onto the Thayer campus.
After Thayer, Chuck attended Lake Forest College in Illinois before returning to the Northeast where he entered the commercial construction trade. His work includes national landmarks such as One World Trade Center and 432 Park Avenue as well as projects at Harvard University, Columbia University, and JFK International Airport.
He and Nora now live in Florida where Chuck continues to work part-time when he's not helping at a local oyster farm.
"Don't just think about it," Chuck says in urging fellow Thayer alumni to support the Academy. "If you had a great experience and you value your Thayer education, call the development team and say you'd like to include Thayer in your will."
© Pentera, Inc. Planned giving content. All rights reserved.
Disclaimer